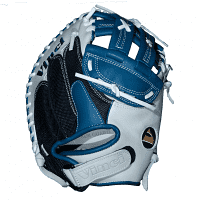 Fastpitch Softball Gloves
Shopping for fastpitch softball gloves doesn't have to be overwhelming. Learn about important aspects of fastpitch softball gloves and your choices. Let's find the perfect fastpitch softball gloves for you!
Fastpitch Softball Gloves Weight
Weight plays a part in the functionality of Fastpitch Softball Gloves. Players don't want a glove that is too heavy to hold or balance as they change the ball from hand to hand. The weight can also have an effect on the ease of squeeze. Choosing Fastpitch Softball Gloves with a lighter weight may be easier for breaking in as well. Vinci's Fastpitch Softball Gloves in the Mesh Series tend to be popular due to the preferred weight, break-in time and ease of squeeze.
Fastpitch Softball Gloves Size
Fastpitch softball gloves differ from baseball gloves in several key ways. Fastpitch softball gloves are made in a range of sizes from 11.5 inches to up to 13 inches in most cases. Baseball players' gloves typically range in sizes from 10 inches to 12.75 inches. The ordering size of fastpitch softball gloves is not the only difference in size. Fastpitch softball gloves also require a different size pocket as the balls are not the same for these two sports. The deeper pocket of fastpitch softball gloves create a shorter glove overall. Fastpitch softball gloves are also wider to accommodate the larger ball. Smaller hand openings and finger stalls are designed for fastpitch softball gloves.
Fastpitch Softball Gloves Fit
Players wearing fastpitch softball gloves actually prefer a tighter fit. Fastpitch softball gloves often times come with Velcro to facilitate a tighter wear. In fact, all of Vinci's Fastpitch Softball Gloves have a Velcro strap. This enhances the range of fit possibilities, ensuring your glove fits as tight as you like it to fit.
Fastpitch Softball Gloves on VinciPro.com
VinciPro.com has developed five series of fastpitch softball gloves. Each series has its own set of characteristics. However, all our fastpitch softball gloves have a Velcro strap so that there is a great range of adjustability. All the fastpitch softball gloves we manufacture are also made with added palm padding.
Fastpitch Softball Gloves in Optimus Series
The best fastpitch softball gloves series, or the Vinci Optimus Series, features gloves with the aesthetically pleasing rolled welting. These gloves don't just look good either. Made from 6.5 ounces of kip leather, the Optimus Fastpitch Softball Gloves are durable.
Fastpitch Softball Gloves in Mesh Series
If you are looking for fastpitch softball gloves that are a little lighter, try the Vinci Mesh Series Fastpitch Softball Gloves. These gloves are constructed with 5.5 ounces of the kip leather but also feature a Kevlar mesh back, improving your ease of squeeze. This also enables the gloves to have a shorter break-in time, making it one of the most popular Vinci Fastpitch Softball Gloves.
Fastpitch Softball Gloves Limited Leather
Highlights of our Limited Leather Fastpitch Softball Gloves include sheepskin finger linings, solid palm pad, pre-treated kip leather, as well as thumb and pinky loops. These sturdy stays help the glove hold up over time.
Fastpitch Softball Gloves 22 Series
Vinci's deep pocket design can be found on fastpitch softball gloves in the 22 Series, leading to less spin and better control. The finger stalls are more comfortable due to a deer tanned cowhide leather interior. Constructed from 5 ounces of US Steer Hide, these gloves have a shock pad sewn into the palm. This better protects the hand from impact.
Fastpitch Softball Gloves Fortus
Transitioning from a youth glove to an adult glove? The Fortus Series is the place to start. These are typically a step up from our junior gloves. We recommend that if this is the case, you call and speak to a product specialist so we can direct you to the best glove for your particular needs. Call 1-888-529-6864 and a specialist will be happy to assist you.
Fastpitch Softball Gloves Care
Once you have selected and ordered your Fastpitch Softball Gloves, you will want to provide proper care for the glove. Conditioning the leather is the first step in caring for fastpitch softball gloves. When you purchase from VinciPro.com, Vinci will send you leather conditioner complimentary. You will want to wear latex gloves as you apply the conditioner to all parts of your glove including the rear, pocket and laces. Be careful to not use too much conditioner as this is actually not good for your glove. Forming the pocket of your glove is the next step. Vinci offers information on how to do this on the resources tab of our website. We also offer a break-in kit for a nominal fee. Breaking in your fastpitch softball gloves is next in glove care.
Custom Fastpitch Softball Gloves
If you have ever wanted to design your own fastpitch softball glove, Vinci can help you achieve this. Custom gloves can be created using a simple form utilizing drop down menus for each item that can be customized. You decide what type of web, glove back, size, and colors for every aspect of the glove. Our custom gloves can also be personalized so that your name is right on the glove! So not only do you get everything you ever wanted in a glove, you also get to put your name on it. Trust us, it's pretty cool having your name on a glove.
Fastpitch Softball Gloves – Why Choose VinciPro
Vinci Fastpitch Softball Gloves are manufactured with quality as number one priority. This is why many professional players use Vinci gloves as they train and play. Our hand crafted fastpitch softball gloves are designed with players in mind. You want a glove that will help you play your best game and we want Vinci to be the name on your glove as you do. VinciPro.com is a company that was founded by player Pete Vinci. He has played the game of baseball since he was five years old. He not only knows what players want, he works tirelessly to give players what they need in a glove.