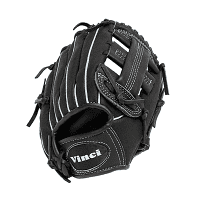 Find The Best Youth Baseball Gloves 
If you have a young player that you are responsible for, you want the best youth baseball gloves.  These model gloves offer a number of important features to protect young players from injury.  They are made especially for younger players.  When you choose one of our  gloves, you get a quality product that was specifically made for younger players.  Professional baseball glove patterns are available in our youth baseball gloves.  We offer several models that are designed for smaller hands yet maintain the quality of a Vinci. The Fortus Advanced Youth Series is the next step from our Youth glove series. In this series we utilized lightweight softer steer hide leather for an easy and simple break in time. We have also beefed up the padding in our Fortus line of gloves therefore becoming more of an advanced youth type of glove. 
Baseball Gloves Made for Safety
There are many aspects that go into making our youth baseball gloves the best.  The primary purpose of our baseball gloves is to protect a young player's hand.  Pro-grade leather palm pads provide the foundation for preventing injuries.  They absorb the impact of hard hits of the ball, reducing the chance of your player getting hurt.  Our gloves provide this protection without inhibiting your game.
Left Handed Thrower or Right Handed Thrower Kids Models

Gloves can only be the best youth baseball gloves for your player if they are made for the type of thrower he or she is.  Vinci youth baseball gloves are available for left handed throwers or right handed throwers.  Models that are available for left handed throwers include the BRV1961, BRV1951, BRV1957, BRV1953 and BRV1950.  Simply choose which thrower option you desire on the order form.
Which baseball size glove is best for your child?

Determining the best youth baseball gloves for your child is based on a variety of factors.  At this stage, the size of the glove will be of upmost importance.  That's why Vinci youth baseball gloves come in a variety of sizes.  Starting at a 10 inch size, these gloves can accommodate very small hands.  Other sizes in our youth baseball gloves series include 10.5, 11, 11.5, and 12 inch sizes. Our Fortus series also has 12.5 inch and 13.5 inch gloves as well as 30.5 inch and 32.5  inch catcher's mitts. No matter which size you need, the best youth baseball gloves manufactured by Vinci will be made from high end pro-grade materials.
Our Materials in 2021
Pro-grade pretreated leather enhances the comfort of our best youth baseball gloves while providing flexibility.  Young players can easily grip the ball due to this easy-to-break in leather.  Vinci's best youth baseball gloves are lightweight too. Young players appreciate these gloves for quick efficient transfers.
Overview
Below is a brief review for all the best youth baseball gloves we carry.  Included in the review are the age recommendations that typically work for each glove.  Listed as well are the sizes, web style and color of each glove model.  All of our gloves come with a limited manufacturer's warranty for one year.  There are a few restrictions on the warranty.  It will not cover gloves that have been steamed, put in the microwave or oven or haven't been conditioned properly.  All Vinci youth baseball gloves also have the option to add glove conditioner to the order for the reduced price of one dollar.  In addition to the youth/junior baseball gloves series, Vinci also has a transitional series.  Learn more details about the Youth Transitional Baseball Gloves in the Fortus Series section below.
Vinci Model BRV1961 – Can be used for Ages 3-5 Years
This model glove is made for ages 3-5 years.  The superior quality of this glove is not often found in gloves for players so young.  This 10 inch beauty has a single post web style and an open back.  The black BRV1961 is made for infielders.  Start your young player off right with a Vinci.  They are sure to enjoy the game more when they are fitted with the right equipment.
Vinci Model BRV1951 – Suited for Ages 8-9 Years
The BRV1951 gloves are 11.5 inch fielder's gloves that are suitable for players ages 8-9.  Infielders and outfielders will appreciate the durability of this glove making it long lasting.  The black glove features a Tombo web style and an open back.  Quality meets comfort in this youth glove.  Learn how to break in your new gloves with easy instructions on the Team Vinci YouTube channel.
Vinci Model BRV1957
This black 10.5 inch youth glove has an I-web design and features an open back.  An infielder glove, the BRV1957 is flexible yet durable and since it is a Vinci glove, it is made to last.  VinciPro gloves make excellent gifts.  Surprise your young player with a new baseball glove from VinciPro.com.
Vinci Model BRV1953
Made for either infielders or outfielders, the BRV1953 boasts a lightweight design.  With a closed basket web and open back, these youth baseball gloves are functional while helping improve game play. If you are looking for a black 11 inch glove that has a professional feel, the search stops here.  This is the best youth baseball glove made by Vinci to generally fit ages 6-8.
Vinci Model BRV1950
Deep pockets are a Vinci signature and players who use this 12 inch fielder's glove will notice the Vinci difference.  With characteristics like an H-web and open back, the BRV1950 youth baseball gloves are repeatedly the glove of choice.
Best Youth in Transition Baseball Gloves for 2021
As players grow physically and in their athletic ability, a time will come when youth baseball gloves will no longer suffice.  The transition from our  youth models to adult models is an exciting time!  VinciPro.com developed a series that specifically works well for the transition.  If you already have a Vinci youth glove, you already know about the quality materials, deep pocket design and comfort of a Vinci.  Fortus Series gloves introduce you to other elements of a Vinci like thick pinky and thumb loops for added protection.  Vinci Fortus Series gloves retain their shape due to thick supports in the pinky and thumb as well.  Extended palm pads and extra leather lacing are other perks of owning a Fortus Series glove. 
Vinci Fortus Series 11.5 Inch Fielder's Glove
Ideal for the casual player, this glove is one of the best transitional youth baseball gloves.  It can be used for youth or adults.  An open back glove in brown and black, this fielder's glove is definitely worth checking out.
Vinci Fortus 32.5 Inch Fastpitch Catcher's Mitt
The Fortus Fastpitch Catcher's Mitt comes in navy blue and black.  Catcher's young and old will appreciate the quality that this Vinci catcher's mitt has to offer.  Dual Post H-Web and Velcro are just a couple things you'll like about this one
Vinci Fortus Series 12 Inch Fielder's Glove Red and Black
A popular choice, this glove is another transitional glove that Vinci offers.  The red and black color is accented with white lace.  It features Velcro and a Net-T back.
Why VinciPro.com
VinciPro.com was established in 1997 but the Vinci legacy started long before then.  The owner, Pete Vinci started playing at the age of 5 but his love of the game started even before that.  Working together with his son Peter, Vinci has introduced several lines of baseball and softball gloves.  Each series brings forth the quality for which VinciPro has earned its reputation.  Dozens of professional players use Vinci gloves as they play and for good reason.  This family company has taken a passion for baseball and filled a need for players throughout the United States.  We are confident that our best youth baseball gloves will be a good fit for your young player.