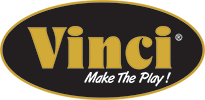 As part of our National Advertising Campaign, Vinci Sports LLC is currently seeking new dealers to join our team of associates. Player Representatives are authorized dealers of Vinci product that consist of baseball and softball players, coaches, and directors of athletic programs.
As a player or coach, you have substantial access to people who use sports equipment. This could be a potential advantage for you should you want to ever make money selling sporting goods, such as Vinci Pro's high quality baseball and softball gloves and gear. Right now Vinci is currently seeking new Player Representatives. As a Player Representative, you have the ability to purchase Vinci products at wholesale prices which allows you to sell them to your network of friends, family and sports acquaintances for a significant profit.
There's no need for you to own a Website because your customers can view product information, photos and details right on the VinciPro.com Website and place their orders with you! Vinci also provides its Player Representatives with tri-fold folders and catalogs and will even provide 500 business cards to the Player Representative once his/her sales total $1000.
There are no fees associated with being a Vinci Player Representative and after the initial order, a Player Representative only needs to place orders for the product sold. Vinci will even ship products directly to your customers (shipping charge applies).
The Vinci Pro Player Representative Program has low start-up costs and includes a tiered incentive program which helps representatives earn free products.
You can represent Vinci with your team or program, at tournaments, at coach clinics and more, all while earning money!
If you'd like more information on the Player Representative Program, or to sign up, contact Nick Battle at NBattle@VinciPro.com. Be a part of the Vinci Pro team and MAKE THE PLAY, or in this case, MAKE THE PAY!